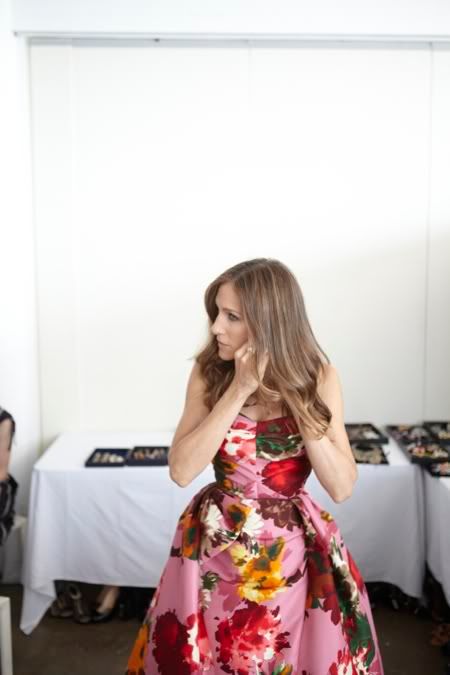 Behind the scenes photo shoot with Sarah Jessica Parker
Inspired by the ultimate fashion icon, Carrie Bradshaw, SJP NYC captures theessence of freedom, New York and of course, fabulous style.  As the quintessential fragrance accessory, SJP NYC is an addictive fruity floral scent for the girl about town who has the world at her stiletto heeled feet.
The packaging is a collision of bold patterns and vibrant colors as if you were peeking inside SJP's fabulous closet.  A simple glass bottle is housed
in a playfully patterned canister designed to fit perfectly in this season's it bag!  Sporting a one-of-a kind Oscar de la Renta gown in the extraordinarily stylish, Sarah Jessica Parker showcases the enchantingly stylish spirit of SJP NYC.
"I wanted to create a fragrance with a great sense of fun and whimsy," said Sarah Jessica Parker.  "It's about mixing things up and breaking rules, all
of the things I like about fashion."
Top Notes: Italian Mandarin, White Osmanthus, Wild Red Strawberries Heart Notes: Gardenia, Honeysuckle, Mimosa, Red Rose Damascenia
Base Notes: Sandalwood, Vanilla Absolute, Rum Flavor, Creamy Musks
SJP NYC Collection:
60ml eau de toilette spray – $49.00
30ml eau de toilette spray – $35.00
15ml eau de toilette spray – $25.00
200ml body lotion – $25.00
SJP NYC is in fine department stores nationwide.
How To Enter: To enter this amazing giveaway submit your info at coutureinthecity@gmail.com. And title your email –SJP Giveaway. This will run until May 26th. So good luck!
Giveaway Disclaimer: Couture in the City and the featured product is not responsible for any errors that may occur during the giveaway. Nor for any incorrect winners information that may occur during the drawing. To be entered into the giveaway follow instructions. A winner is picked one time only.