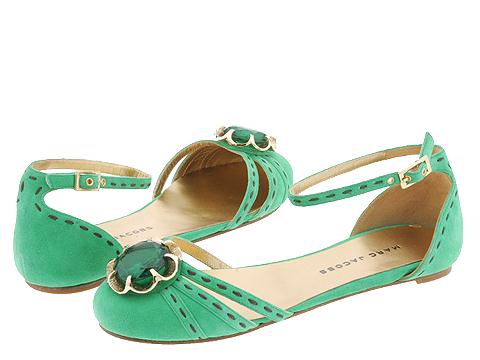 Round Toe Ankle Strap flats, Marc by Marc Jacobs, $278.95

Sigerson Morrison Ballet Flats, $393.95
If you are anything like me, you ogle over gorgeous designer shoes but just can't bring yourself to shell out the big bucks for them (okay, that one time on Ebay, but they weren't even my size!).
That's why ever since high school, I have been of the DIY persuasion (that's Do It Yourself, FYI). Being your own designer is actually pretty fun, and there's nothing more rewarding than having someone ask where you got something, only to reply "This old thing? I made it."
*Self-Designer Tip*
See a cute pair of adorned flats, and think you can do it yourself? You probably can. A glue gun can be your best friend on a pair of less expensive shoes. Try it out first on an old or cheap pair, and round up some old earrings, broaches, sequins, or whatever your heart desires. Glue accordingly and voila! Designer shoes that no one else has.
Want more great DIY ideas? Visit www.fashion-icon.com and check out their Style Studio section. Really crafty gals and guys should also check out Ready Made magazine's website to see how to make a ton of stuff from quirky bags and tees to furniture and other home goods.