I'd just like to say, "Welcome back Sarah Jessica!" This little fashionista is on fire with her new affordable fashion line, Bitten. All items are under 20 dollars! Her new scent Covet has also sparked a flame in her new ventures. Customers describe Parker's new scent as "citrousy and pretty" and "simply divine". And it's all icing on the cake with the return of Sex and the City coming to a theatre near you. If you are obsessed with the show like I am you may already know this but HBO has confirmed that Parker, Kim Catrall, Kristen Davis and Cynthia Nixon have all signed on to reprise their fashion forward roles. Writer and Producer, Michael Patrick King, is also on bored. What I am wondering is, are they going to re-recruit Patricia Fields? The Emmy Award winning Costume designer is the visionary that created the revolutionary trends on the hit show. Designer and couture pieces that draped SJP's body are still hip today. Women still crave and are trying to achieve the Carrie Bradshaw look. Here are some of the groundbreaking looks that Fields brought to our screen.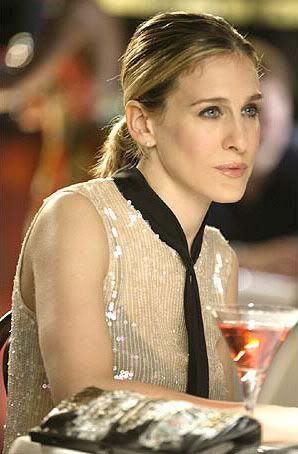 Here Carrie wears a Victor & Rolf sequin top. Sequins are definitely still hot for a night on the town.
Carrie is wearing a TSE cashmere sweater and jeans tucked in to boots that are made by the infamous Manola Blahnik. This is classic winter style and a look that every woman tries to achieve when it gets cold outside.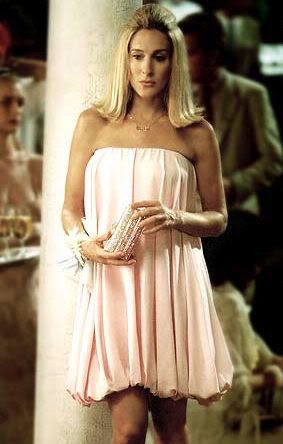 In the 5th season Carrie adorned this David Dalrymple for House of Field's "bubble" dress in baby pink. This bubble dress has been "the" trend of the summer.
I know we are all anticipating the return of gossip and sex to the big screen but we are holding our breath waiting to see what fashion trends will have us running to the mall. Fields was also the costume designer on the set of The Devil Wears Prada, where Hathaway and Streep had us vying for knee high boots and crocodile totes. DVP only has me more exited to see what the SATC movie has in store. Will the movie set trends for years to come or will it be "fashion road kill"?